The Map of Salt and Stars: A Novel (Paperback)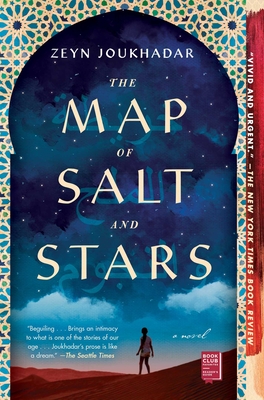 $17.99

Usually Ships in 1-5 Days
Description
---
This powerful and lyrical debut novel is to Syria what The Kite Runner was to Afghanistan; the story of two girls living eight hundred years apart—a modern-day Syrian refugee seeking safety and an adventurous mapmaker's apprentice—"perfectly aligns with the cultural moment" (The Providence Journal) and "shows how interconnected two supposedly opposing worlds can be" (The New York Times Book Review).

This "beguiling" (Seattle Times) and stunning novel begins in the summer of 2011. Nour has just lost her father to cancer, and her mother moves Nour and her sisters from New York City back to Syria to be closer to their family. In order to keep her father's spirit alive as she adjusts to her new home, Nour tells herself their favorite story—the tale of Rawiya, a twelfth-century girl who disguised herself as a boy in order to apprentice herself to a famous mapmaker.

But the Syria Nour's parents knew is changing, and it isn't long before the war reaches their quiet Homs neighborhood. When a shell destroys Nour's house and almost takes her life, she and her family are forced to choose: stay and risk more violence or flee across seven countries of the Middle East and North Africa in search of safety—along the very route Rawiya and her mapmaker took eight hundred years before in their quest to chart the world. As Nour's family decides to take the risk, their journey becomes more and more dangerous, until they face a choice that could mean the family will be separated forever.

Following alternating timelines and a pair of unforgettable heroines coming of age in perilous times, The Map of Salt and Stars is the "magical and heart-wrenching" (Christian Science Monitor) story of one girl telling herself the legend of another and learning that, if you listen to your own voice, some things can never be lost.
About the Author
---
Zeyn Joukhadar is the author of The Map of Salt and Stars and The Thirty Names of Night. He is a member of the Radius of Arab American Writers (RAWI) and of American Mensa. Joukhadar's writing has appeared in Salon, The Paris Review, The Kenyon Review, and elsewhere and has been nominated for a Pushcart Prize and the Best of the Net. The Map of Salt and Stars was a 2018 Middle East Book Award winner in Youth Literature, a 2018 Goodreads Choice Awards Finalist in Historical Fiction, and was shortlisted for the Wilbur Smith Adventure Writing Prize. He has received fellowships from the Montalvo Arts Center, the Arab American National Museum, the Bread Loaf Writers' Conference, the Camargo Foundation, and the Josef and Anni Albers Foundation.
Praise For…
---
"The ancient, sometimes mystical connection between maps, people, and knowledge is central to Jennifer Zeynab Joukhadar's The Map of Salt and Stars, a double tale of voyage and exile that moves between contemporary war-torn Syria and the caravansaries and khans of its lost past....What Joukhadar does beautifully is to connect, in a vivid and urgent way, Syria and the United States....The Map of Salt and Stars is important and timely becasue it shows how interconnected two supposedly opposing worlds can be. Our many stories are part of the same larger tale, part of the same larger map."
— The New York Times Book Review

"In Joukhadar's intoxicating debut, the past and present are brought to life, illuminating how, in exile, neither can exist without the other. With clear, exquisite prose, Joukhadar unspools a brightly imagined tale of family and grief, mapmaking and migration. This important book is a love letter to the vanished—and to what remains."
— Hala Alyan, author of Salt Houses

"E. M. Forster taught us that 'fiction is truer than history because it goes beyond the evidence.' Jennifer Zeynab Joukhadar's magic first novel is a testimony to that maxim. We've all been aware of the plight of Syrian refugees, but in this richly imaginative story we see one small family – both haunted by history and saved by myth – work their way west. It's beautiful and lovely and eye-opening."


— Chris Bohjalian, bestselling author of The Flight Attendant and The Guest Room

"The Map of Salt and Stars is the sweeping, thrillingly ambitious tale of Nour, Rawiya, and their parallel searches for home. In twin narratives that unfold eight hundred years apart, Joukhadar captures the unrelenting courage of those who persist amid the trials of exile. A truly remarkable debut."
— Kirstin Chen, author of Bury What We Cannot Take and Soy Sauce for Beginners

"Navigation is the theme of this novel built around two voyages. The first is a refugee's journey as 11-year-old Nour, who was born in New York, returns with her mother to Syria, only to face conflict and a bombed-out home. This story is twinned with a fabulous tale of a medieval expedition to map the Arabic world guided by the stars, creating a work that is both magical and heart-wrenching."
— Christian Science Monitor

"Beguiling...brings an intimacy to what is one of the stories of our age...Joukhadar's prose is like a dream."
— Seattle Times

"In her rich and often heartbreaking debut, Syrian American writer Jennifer Zeynab Joukhadar tries to make whole the broken memory of a nation caused by the deadly conflick in Syria....Joukhadar's vibrant prose brings to life the very real and devastating struggle that many refugees face today."
— The Daily Beast

"[An] ambitious debut… Joukhadar plunges the Western reader full force into the refugee world with sensual imagery."
— Kirkus Reviews, starred review

"Nour's family constantly endures hardship. . . but her young, honest voice adds a softer, coming-of-age perspective to this story of loss, hope, and survival. . . This imaginative yet very real look into war-torn Syria is a must."
— Booklist, starred review

"A stunning dual narrative about families, crossing borders, and finding a new way home....Joukhadar's absorbing narrative offers a vividly particular glimpse into the refugee crisis and two unforgettable heroines united by their bravery and hope."
— Shelf Awareness for Readers, starred review

"Debut novelist Joukhadar gracefully balances the gritty, often horrific truth of the refugee's plight with the lyrical near-fairy tale she has created....A wise, vibrantly told story for a wide range of readers, particularly relevant now."
— Library Journal

"In many ways, The Map of Salt and Stars is at once a testament to the brutality of the current Syrian conflict and a reverent ode to ancient Arabian history. Syrian-American writer Jennifer Zeynab Joukhadar has crafted an audacious debut, ambitious and sprawling in both time and space. . . The Map of Salt and Stars presents an Arab world in full possession of its immense historical and cultural biography, marred by its modern tragedies but not exclusively defined by them."
— BookPage

"In her debut novel, Joukhadar's jeweled prose sparkles with fanciful images…The Map of Salt and Stars is, in sum, a hero's odyssey, a spellbinding geography of family and hope."
— Shelf Awareness

"A haunting, inspiring story, one which remains in this reviewer's mind long after the final pages. Highly recommended."
— Historical Novels Review

"Every once in a while, a novel comes along that perfectly aligns with the cultural moment. "The Map of Salt and Stars" is that kind of book. . . The finest literature tells the one story that stands in for the many. John Steinbeck accomplished this with the Joad family in "The Grapes of Wrath," and Zeynab Joukhadar has written a novel with a similar weight and power about Syria's displaced people. Indeed, her novel speaks for all the refugees, from the Mideast to Europe to Central America, who are fleeing political violence and repression and want only to find a safe place to call home. Nour's voice makes it difficult to ignore their plight."
— Providence Journal

"A stunning dual narrative about families, crossing borders, and finding a new way home....Joukhadar's absorbing narrative offers a vividly particular glimpse into the refugee crisis and two unforgettable heroines united by their bravery and hope."
— Shelf Awareness for Readers, starred review

"Joukhadar's writing is lovely and lyrical, and for Nour he has found a voice that is almost mythical."
— Commonweal