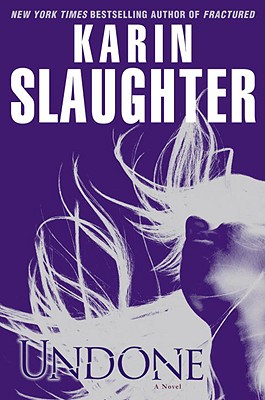 August 2009 Indie Next List
---
"Combining characters from both her series, Karin Slaughter produces a novel that probes, shocks, and enthralls. She writes with an edge that borders on ferocity, and her characters have tremendous depth, complete with all the flaws and foibles that make them truly human. No one is producing more powerful work these days."
— Bill Cusumano, Nicola's Books, Ann Arbor, MI
Description
---
In the trauma center of Atlanta's busiest hospital, Sara Linton treats the city's poor, wounded, and unlucky—and finds refuge from the tragedy that rocked her life in rural Grant County. Then, in one instant, Sara is thrust into a frantic police investigation, coming face-to-face with a tall driven detective and his quiet female partner…. In Undone, three unforgettable characters from Karin Slaughter's New York Times bestselling novels Faithless and Fractured collide for the first time, entering an electrifying race against the clock—and a duel with unspeakable human evil.

In the backwoods of suburban Atlanta, where Sara's patient was found, local police have set up their investigation. But Georgia Bureau of Investigation detective Will Trent doesn't wait for the go-ahead from his boss—he plunges through police lines, through the brooding woods, and single-handedly exposes a hidden house of horror buried beneath the earth. Then he finds another victim.…

Wresting the case away from the local police chief, Will and his partner, Faith Mitchell—a woman keeping explosive secrets of her own—are called into a related investigation. Another woman—a smart, upscale, independent young mother—has been snatched. For the two cops out on the hunt, for the doctor trying to bring her patient back to life, the truth hits like a hammer: the killer's torture chamber has been found, but the killer is still at work.

In her latest suspense masterpiece, Karin Slaughter weaves together the moving, powerful human stories of characters as real as they are complex and unforgettable. At the same time she has crafted a work of dazzling storytelling and spine-tingling mystery—as three people, each with their own wounds and their own secrets, are all that stands between a madman and his next crime.
About the Author
---
Karin Slaughter is the "New York Times" and internationally bestselling author of Fractured, Beyond Reach, Triptych, Faithless, "A Faint Cold Fear, " which was named an International Book-of-the-Month Club selection, "Indelible, Kisscut, " and "Blindsighted; "she contributed to and edited "Like a Charm." She is a native of Georgia, where she currently lives and is working on her next novel.
Praise For…
---
"Powerful and complex…The way Slaughter gradually unspools her fascinating story, all the way up to its shocking conclusion, will have readers captivated. Another fine, dark novel from Slaughter."—Chicago Sun-Times for Beyond Reach

"[Slaughter's] best yet….Her novels smolder with reality…. She writes with confidence and precision as well as passion"
—Washington Post on Faithless

"Slaughter has the courage to detonate her biggest bombshells early on, keeping even the wariest readers off-balance."
—Kirkus Reviews

"Heart-pounding…Slaughter brings the same raw energy and brutal violence that distinguishes her Grant County series (Beyond Reach, etc) to this new series with chilling results, while Trent and Mitchell, a pair of complex and deeply flawed heroes, will leave fans clamoring for the next installment."
—Publishers Weekly, Starred Review for Fractured

"Bone-chilling…Slaughter builds the suspense to a perfect crescendo, connecting every loose plot strand in a devastating and unforgettable climax…A timely and unsettling read."
—Publishers Weekly, Starred Review for Beyond Reach, named one of Publisher Weekly's Best Books of the Year